News & Updates
Snowshoe Mountain hosted the ninth round of the 2016 AMS OIL Grand National Cross Country (GNCC) series presented by Maxxis, an AMA National Championship, this past Sunday, June 26. The rough and rugged conditions created a grueling track for the AMSOIL Snowshoe GNCC that lived up to the nickname of "America's Toughest Race." After three hours of intense racing it was FMF/KTM Factory Racing's Kailub Russell taking home the coveted win and earning his sixth win of the season.
---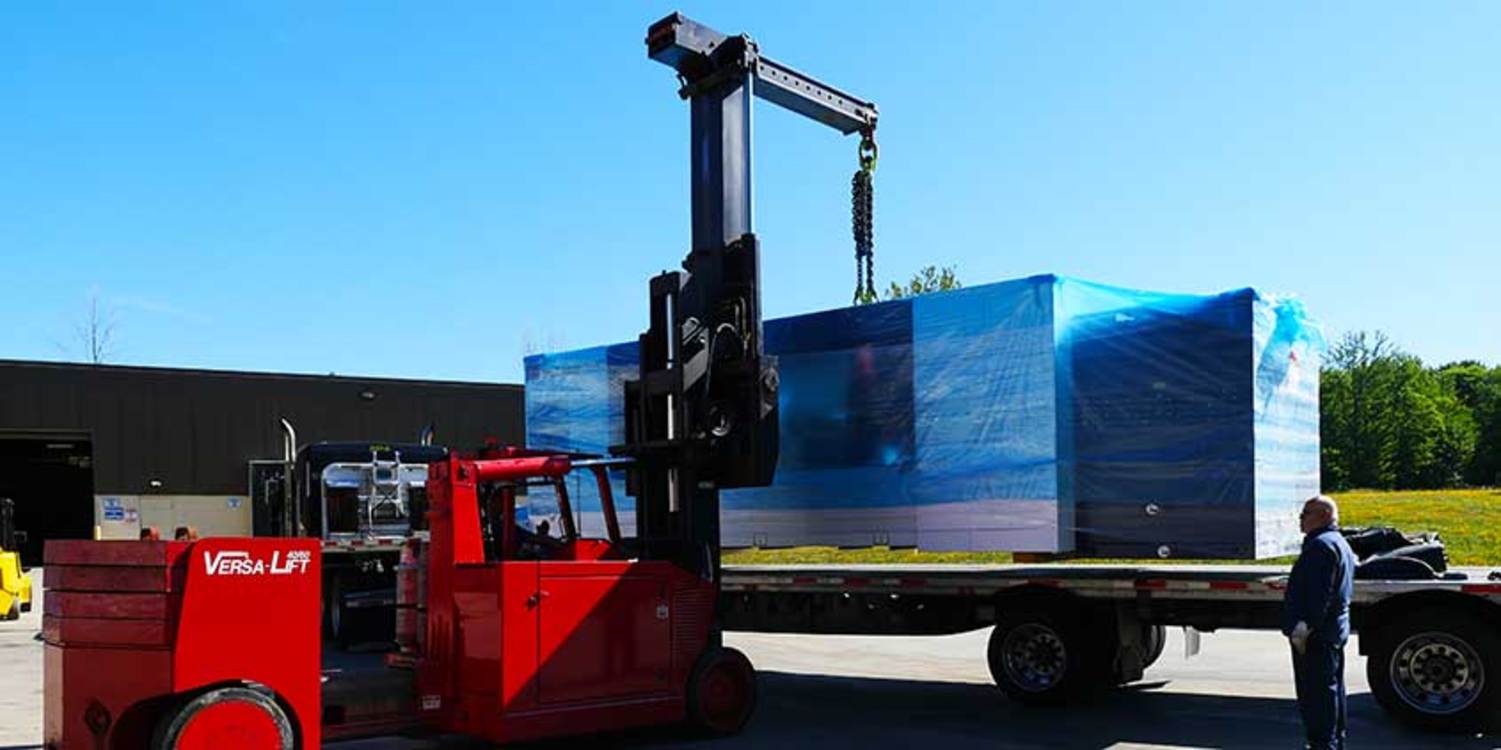 To maintain our dedication to being an industry leader in manufacturing processes, Cometic has heavily invested in modern technology that will be rolling out over the next 12 months. The first investment has hit the shop floor- A Trumpf 3KW 1030 Fiber Laser. This is the first piece or our new custom short-run work cell.
---
---
CHARLOTTE, N.C. (June 2, 2014)
Cometic Gasket, Inc. announced today it is expanding its partnership with SPEED Energy Formula Off-Road Presented by TRAXXAS and will become the primary sponsor of the Cometic Stadium Super Truck driven by Justin Lofton at X Games Austin this week. Cometic was a founding partner of the Series in 2013, and continues its relationship with the series as its Official Gasket. In addition to its associate sponsorship position throughout the nine-weekend Formula Off-Road Presented by TRAXXAS season, Cometic will take full advantage of the live ABC and ESPN network telecast of X Games Austin June 6-8 with veteran off-road and NASCAR driver Lofton behind the wheel. "I am very excited and thankful to Cometic Gasket for making this childhood dream of mine a reality, Lofton said. Being able to race a Stadium Super Truck for an X Games gold medal is absolutely awesome and I know all the fans and viewers on ABC and ESPN are going to enjoy the show we put on. Big props to Robby Gordon and all his staff for making this happen and I can't wait to get to Austin. Cometic Gasket, Inc., is a leading worldwide supplier of shelf-stock, custom and short-run gaskets for the automotive performance, powersports, original equipment and remanufactured industries. What originally began in 1989, in an 800 square-foot office with limited production facilities and capabilities, has evolved into a 70,000 square-foot, state-of-the-art manufacturing center. Cometic Gasket is located 30 miles east of Cleveland in Concord Township, Ohio. Today Cometic produces and ships more than 5,000 types of gaskets to customers worldwide. Formula Off-Road is a great way for Cometic to market our gaskets and custom engine-sealing solutions to the off-road racing community, said Bob Gorman, Chief Executive Officer of Cometic Gasket, Inc. Justin Lofton is a young and very talented, multi-dimensional racer who weve had a relationship with dating back to 2008. Justin is very capable of racing up front and we have no doubt that when the checkers wave, hell be on the podium. At the same time, Robby Gordon has done a great job of honoring Mickey Thompsons iconic legacy by bringing back stadium truck racing and reenergizing a proud tradition in American motorsports. The series features a great mix of off-road talent and horsepower and Cometic is proud to showcase our brand not only at X Games Austin, but at all the events. The Stadium Super Trucks that race in the Formula Off-Road by TRAXXAS series hit man-made ramps at more than 100 mph at multiple locations throughout the race courses hurling drivers more than 100 feet down course and as high as 15 feet off the ground. The series features identically prepared trucks which are made to resemble their scaled-down TRAXXAS radio-control-car counterparts. Like their TRAXXAS namesake, the trucks are designed to take flight, however, unlike RC trucks, they produce 600 horsepower generating speeds upwards of 130 miles per hour. In addition to X Games Austins televised race, all Formula Off-Road Presented by TRAXXAS races are broadcast on NBCSN. A complete schedule is available at www.stadiumsupertrucks.com. Most races are also streamed live on the web site.
About SPEED Energy Formula Off-Road presented by Traxxas
Influenced by the former Mickey Thompson Stadium Off-Road Racing Series, where drivers such as Gordon, Casey Mears and six-time NASCAR champion Jimmie Johnson got their start, Gordon created Stadium SUPER Trucks to capitalize on the publics overwhelming interest in trucks and SUVs as well as the fact that the majority of automotive aftermarket parts are marketed for trucks. Keep up with all the latest news of SPEED Energy Formula Off-Road Presented by Traxxas and Stadium SUPER Trucks by liking us on Facebook at
http://facebook.com/StadiumSuperTrucks
as well as following on Twitter at
http://twitter.com/SSuperTrucks
. SPEED Energy Formula Off-Road Presented by Traxxas Chris Hecht 704-949-1255
checht@stadiumsupertrucks.com
---
CONCORD
, Ohio (July 1, 2013) Cometic Gasket, Inc., - a leading worldwide supplier of shelf stock, custom and short-run gaskets for the performance aftermarket, original equipment, motorsports and powersports industries will assume a leading role in sponsoring the sold out July 3 Ricky Carmichael University (RCU) at Red Bud MX in Buchanan, Mich. RCU began in 2010 as a once-in-a-lifetime opportunity for riders of all ages and skill levels to learn from The-Greatest-of-All-Time, Ricky Carmichael. Carmichael will be flanked by an all-star lineup of instructors including four-time champion Jeff Emig, six-time AMA Motocross and Supercross Champion Jeff Stanton, four-time AMA and US Open Champion Grant Langston and three-time 125cc titlest Ivan Tedesco. Ricky Carmichael University is a great place for Cometic to begin educating and interacting with amateur riders, their mechanics and parents about our products and the importance of making sure their engines and all of its components are properly sealed, said Bob Gorman, Chief Executive Officer, Cometic Gasket, Inc. The great majority of the athletes at the RCU hope to be factory riders one day and, as a company, we pride ourselves on supporting events that will help amateurs reach the next rung on the ladder of their career paths. Much like with Ricky, Cometic supported him during his early years and we still enjoy a tremendous relationship today. Students will spend the day trackside and in classroom settings, affording them the opportunity to ask questions and bench race with the faculty. With a grand total of 32 championships at the blackboard, students are bound to walk away with priceless information and a timeless experience. Cometic will provide scholarships to two young Midwest riders. Twelve-year-old Metamora, Mich., native Joey Crown, will fly the Cometic colors aboard a Honda CRF 150R while Seth Hill, a fourth-grader from Huntsburg, Ohio, will pilot a King Cobra 50cc. Cometic has become a staple at all of our amateur events and really, in just about everything we do, explained Carmichael. Were excited to host this years RCU at Red Bud, which is only a few hours away from Cometics headquarters. Joey Crown and Seth Hill are going to be great additions to our student body and I have no doubt that both kids are going to leave the RCU with honed and refined skill sets that will make them better riders.
About Cometic Gasket, Inc
. Cometic Gasket, Inc., is a leading worldwide supplier of shelf-stock, custom and short-run gaskets for the performance aftermarket, original equipment, motorsports and powersports industries. What originally began in 1989, in an 800 square-foot office with limited production facilities and capabilities, has evolved into a 70,000 square-foot, state-of-the-art manufacturing center. Cometic Gasket is located 30 miles east of Cleveland in Concord, Ohio. Today Cometic produces and ships more than 5,000 types of gaskets to customers worldwide. To ensure superior performance across a wide variety of engine types and sizes, Cometic manufactures gaskets from a comprehensive range of materials. Whether the situation calls for the latest in advanced technology like the MLS (Multi-Layer Steel) Gasket, or a synthetic blend such as Aramid Fiber, Cometic finds a solution. Cometics in-house tooling centers and rubber division ensure that we are in total control and on the leading edge of the manufacturing process. Cometic stays on the forefront of gasket design technology by utilizing in-house dynamometers and engine assembly rooms to bring our distributors, retailers and ultimately the customer, the most reliable gaskets available in the marketplace today. Cometic Gaskets are the industry standard for championship-winning teams across multiple disciplines of both professional and amateur motorsports. Since its inception, Cometic has been committed to producing superior quality gaskets for the high-performance market. We believe close relationships and attention to detail are the catalysts of customer satisfaction. These values remain Cometics guiding principles to this day. Cometic Gaskets are always made in the USA with materials manufactured on American soil.
About Ricky Carmichael University
Ricky Carmichael University began in 2010 as a once in a lifetime opportunity for riders of all ages and skill levels to learn from The-Greatest-of-All-Time, Ricky Carmichael, in conjunction with the Ricky Carmichael Amateur Supercross at Daytona International Speedway. Due to the expansion of racing in 2012, Daytona was no longer able to facilitate RCU, thus expanding this exclusive riding school to Lake Elsinore in California and for the first time ever, Fat Cat Moto Parc in Doncaster, UK. RCU is supported by Ricky's sponsors Monster Energy, Fox Racing, Oakley, Cometic Gasket, Suzuki and our supporters Mechanix Wear, Hookit and Contour. The knowledgeable and experienced panel of instructors will teach students everything from proper body positioning, to utilizing organized drills focusing on flat turns, rhythm sections and improved braking techniques.
---
Joey Gladstone showed up in Maryland for the MIROCK Summer Nationals ready for a win. Gladstone and DME Racing just coming off back to back wins, came prepared to keep hold of their winning streak. The Orient Express Pro street class held a full field of bikes with the nations top riders and fastest bikes ready for battle. Qualifying #2 with a 7.12 Joey set off on Sunday with one mission, get to the winners circle by any means possible. Round after round Joey's consistent lights, with the combination of a well prepared bike, did just that. After three round wins with a bike that was getting steadily faster after each round, Joey had to face rookie teammate Terence Angela in the finals. Knowing that Angela's bike was also consistently getting faster after each round, Joey decided to change up his normal starting line practice and push the tree harder. "Terrance is a great rider and teammate, but I wanted to win. It's all business once we roll into the lights, and I want this championship at the end of the year. I can't afford to let my guard down for anyone." said Gladstone. Turns out Joey was smart to push the tree harder on this pass as he won on a holeshot running a 7.06 to Angela's 7.03.
Joey's next race will be at Virginia Motorsports park June 21-23 for the Manufacturers Cup race. Gladstone is currently leading the points in both series and plans to hold those positions all year. Joey would like to thank all his sponsors for their continued support in making these wins possible.
The Team would like to thank the flowing sponsors for their continued support in 2013. D.M.E Racing Catalyst Racing Composites Cometic Gaskets CP Carillo Lucas Oil NLR Penske Shocks R&D Transmissions Worldwide Bearings Vanson Leathers VP Racing Fuels
---
Hi Jason This is Rick Yacoucci Im a friend of John Noonan you helped us out a few years ago with some head gaskets and am wondering if you can help us out again We are doing a turbo small block chevy in our streamliner in hopes of being the first 400mph Gasoline powered streamliner. We did rather well last year setting 4 records, SCTA fastest car of the year and The 200mph club Wrench of the year. Either way with the zero failures we have had with your gaskets we will be using them again with this build. Please let me know if you will be able to help ASAP, like most racers we seem to do the last minute thrash. Thanks Rick Yacoucci Rick Yacoucci Racing
http://www.bonnevillestreamliner.com
---
Bradenton, FL 04/07/2013 We have worked hard on our program all winter long adding things like traction control, Lectron EFI throttle bodies, and lots of sensors to monitor all that goes on in a 4 second run. We had the track all day Thursday for testing and we were planning to run the wheels off of it. We were greeted by buckets of rain when we arrived in Bradenton, FL for the Exoticycle Spring Cup event. So, we made the best of it and took in a Tampa Bay Rays baseball game instead of our badly needed test session. Friday the skies finally cleared in the afternoon and Billy got to sling a leg over it for the first time this season. The first round of qualifying would be our first lap so we had to guess on our tune up. We werent expecting the 4.18 @ 169 out of our little motor. To our surprise, that turned out to be good enough for #1 qualifier. In the first round we met Rick Perry from Venice, FL, getting back into the sport after a little break. We got past Rick with a 4.25. Next round was an earned bye which set up a final round with C.D. Watson from Texas. Billy left first and never looked back running 4.21 @169 for the win! We are all ecstatic with the win and the Manufacturers Cup points lead, but won't be resting between races. We will work for more power before the Manufacturers Cup in Richmond, VA on June 21-23, 2013. We would also like to thank all our other parts suppliers without whom we could not race. Thanks to Kevin at Lectron Fuel Systems for the awesome new Electrons, Tim at Holley EFI, Ray at MSD Ignition, Jay at APE, Snake & RC at CP-Carrillo, Bill at Robinson Industries, Kerry at Crower, Lori, Debbie, and Melissa at Web Cam, Mike at Cometic, Go Go at Nitrous Express, Kurt at Millennium Technology, Will at Kibblewhite Precision Machining, Eric at MTC Engineering, Dave at Worldwide Bearings, and last but not least Brandi at Dragbike.com for the great coverage of our sport. (Press release written/provided by MPS/Thyen Racing)
---
Interviews from various Cometic Sponsored Riders on the Rockstar Engery Racing team.
---
Corry Weller is the driver of the #18 Tilted Kilt/Optima Batteries Pro4 Truck in the Lucas Oil Off Road series.
---
Video courtesy of Jeff Huneycutt of Horsepower Monster. For more videos in this series please visit
www.HorsepowerMonster.com
---
This time of the year is notoriously known for ghosts, goblins, ghouls, and the SEMA show in Las Vegas, NV. This year Cometic took part in assisting AccuAir Suspenison in the build of a Subaru STi that is currently on display just out front of the central hall. Cometic is displaying in booth #20346, stop by and ask them about the quality parts used in this awesome build! Here are a couple shots of the car and below is a little note from Keith Ozzimo of AccuAir Suspension:
"Good Afternoon,
Here are a few quick cell phone photos of our SEMA vehicle! If you are at the show this week, be sure to stop by our booth (21355) and check out our widebody Audi. The Subaru is located directly out front of the central hall, and to the right of the giant Car Crazy booth if you would like to take any photos. Otherwise, I will be providing everyone with high resolution photos we have taken, as well as a video link once we return from Vegas. The Subaru was also filmed and photographed by the SEMA video crew as we entered the show for their YouTube and webpage video, so I will forward the link as soon as it is available to me.
We can't wait to kick off the new 2013 season & put our STI to the test - and we greatly appreciate all of the support up to this point! My hope is that our product feature video will completely exceed your expectations this year! I will be sure to keep everyone updated on any progress, events and car show exposure!
Thanks again for all of your contributions!
-Keith Ozzimo"
---
This past weekend Cometic's own Sam Beasley along with Jacob Donald shared driver duties in the 2012 RoboPong 200 that took place at New Castle Motorsports Park in central Indiana. Sam and Jacob battled numerous other teams on course as well as mother nature as part of the race was run through heavy rains. With excellent driving skills and awesome pit strategies Sam and Jacob prevailed to take the win and the $10,000 prize. Congrats! To read more about their weekend please visit:
http://www.ekartingnews.com/news_info.php?n=21095
---
Welcome to our new blog! In the near future we will be sharing entries about featured products, installation techniques, race results and tons of other industry news.
---